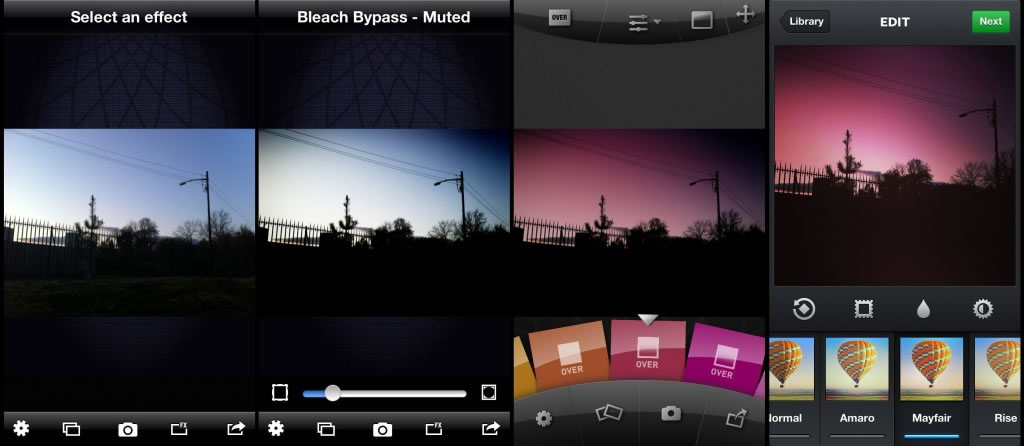 Dusk in winter-time gives us loads of options for creating atmospheric images. Bare trees, icy cool skies and contrasty black sillhouettes as the sun creeps below the horizon. Using a combination of elements in this image, there were a series of interesting shapes and textures against a flat wintry sky. To balance this out, it's split halfway with a solid dark shaded area, blacked out by a combination of low light in shade, yet enough light in the sky. The human eye would see more detail in the shadow, but the camera punches this out with a brighter sky.
Taking this shot, and running through Bleach Bypass this gives a more pleasing aesthetic. Vignettes in the sky gives depth, and 'frames' the shot a bit better up top. It also adds punch to the sky with heightened contrast which is characteristic of the Bleach Bypass effect.
Saving out this image it is then loaded into Geló (PhotoAppLink will be coming soon for Geló so you can send this directly from Bleach Bypass without the need to save)
Using a dusky purple gradient in the Overlay mode adds colour to the sky, and retains the blackness. It is not a true representation of the image in reality, but it adds atmosphere and a bit of colour. Of course it's all subjective to tastes, and other colours could work better, if indeed colour is desired or needed at all. Deep reds of intense purples could work well, but you could try an abstract colour like a green or brown colour.
Saving this out of Geló the image is then imported into Instagram. Many of Insta's filters are great on their own to create those retro effects, but they can be used to great effect to augment other apps filters and styles.
Certain filters like 'Mayfair' for instance further enhance the saturation, and make the highlights pop.
It's a nice final element in the workflow to sharing, and it shows a subtle way of using multiple apps to add something extra to an image.
You can download Geló for iPhone and iPod here... itunes.apple.com/app/id584055229?ls=1&mt=8
And Bleach Bypass for iPhone and iPod here... itunes.apple.com/app/bleach-bypass/id428240068?mt=8